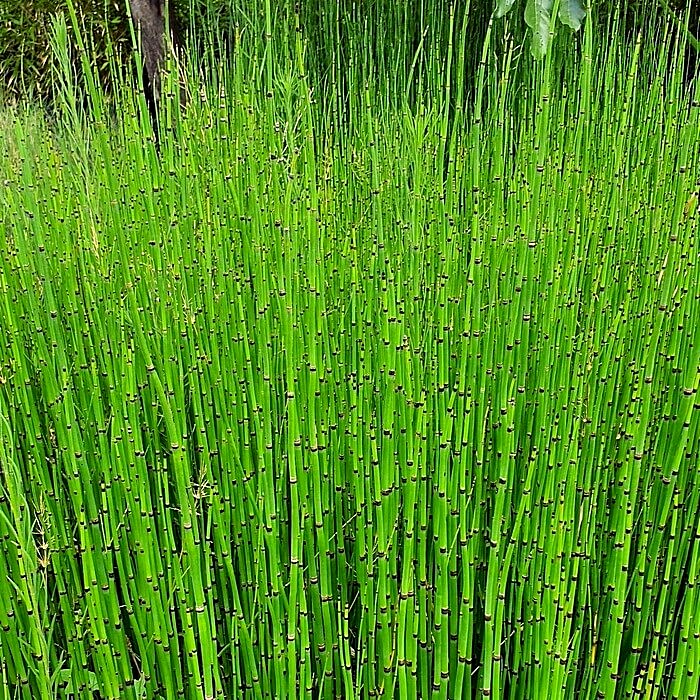 Attributes

Ύψος
120cm
Width
180cm
Blossom
Όχι
Colour
Πράσινο
Cultivation Zone
4-5-6-7-8-9-10
Light
Ήλιος - Ημισκιά
Water
Μέτριο - Πολύ
Minimum Temperature
-35°C
Terrain
Αμμώδες - Πηλώδες - Οργανικό χουμώδες - Βελτιωμένο οργανικό
Equisetum hyemale
Family: Equisetaceae

Description

It is a perennial, herbaceous plant with a wide distribution in Europe, North America and Asia, where it grows in wet places such as swamps, river basins, lakes and rivers, as well as wet forest glades. The plant forms rich, upright clusters that emerge from a superficial, tuberous rhizome, with the plants having variable dimensions, reaching a height of 60 to 120 cm and a width of 30 to 180 cm. During its germination stage, which begins in spring and ends in late autumn, the plant consists of numerous erect, hard, linear, quite thick stems of intense to dark green color, which have an internal cavity and consist of internodes 5 mm long up to 7 cm. Each knee has black-brown scaly leaves, which in turn have a silver band in the center.
In the summer, on the edge of some of the shoots, conical reproductive organs (turbines) appear 2 to 3 cm long with yellow-brown color, which produce numerous tiny spores.

Cultivation

It is a very fast-growing plant, extremely lively, robust and easy to grow. It usually prefers shady places, especially in warmer and drier climates, but also adapts to the sunnier spots when the ground is wet. In terms of soil conditions, it prefers light, rich and moist soils which are slightly alkaline, while it grows extremely well in shallow water 1 to 10 cm deep. It is resistant to temperatures down to - 35 ° C, while it is noted that it is one of the evergreen species of the genus. When planting in places away from water bodies, the constant availability of water should be ensured, since the plants are not very resistant to drought. It very quickly forms rich, dense clusters with the help of its rhizome, often showing expansive tendencies in favorable conditions. It is a plant highly resistant to diseases and enemies, while it has practically no care and maintenance needs if properly installed in a position with favorable conditions. Reacts extremely well and quickly to nitrogen fertilization, while requiring very good aeration of its roots. It is recommended to remove all the dead stems at sparse intervals. Propagation is very easy by dividing the rhizome.

Usage

This impressive species is one of the most popular ornamental members of the genus, with the architectural, linear shoots making it valuable for gardens of modern aesthetics. Particularly suitable for group plantings in wet, relatively shady riparian and lakeside locations, where it stands out best in large group plantings that can serve as a backdrop for other plants, as well as an unusual potted plant in a frequently irrigated or submerged pot. Very useful for sites with particularly poor drainage, as well as for shallow swamps, cisterns and fountains. Its many uses as a medicinal plant are mentioned, while it has been used successfully for the restoration of degraded wetlands.