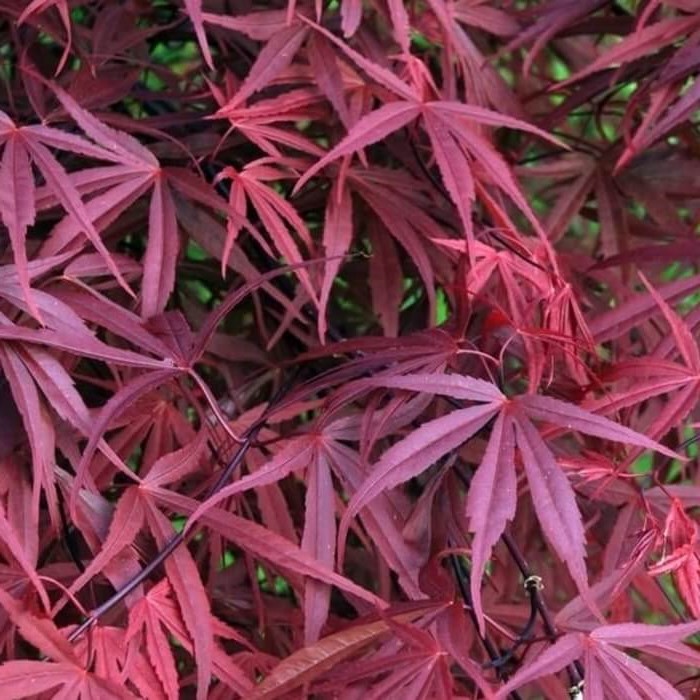 Attributes

Ύψος
800cm
Width
400cm
Blossom
Μάρτιο - Απρίλιο - Μάϊο
Colour
Κόκκινο - Πράσινο
Cultivation Zone
5-6-7-8-9
Light
Ημισκιά - Σκιά
Water
Μέτριο
Minimum Temperature
- 18 °C
Terrain
Αμμώδες - Πηλώδες - Χονδρόκοκκο οργανικό - Οργανικό χουμώδες
Acer palmatum 'Beni-Otake'
Family: Sapindaceae


Description

It is a variety of Acer palmatum (Japanese maple), a perennial, deciduous tree species native to the Far East (Japan, Korea, China), where it grows in mixed deciduous forests in a range of altitudes and conditions. It acquires rich tree growth of upright spherical to upright shape with dense, long-branched crown and reaches a height of 6 to 8 m and a width of 3 to 4 m. The dense foliage is carried on upright, elongated branches that hang on a gray trunk, consisting of large, seven-lobed leaves 9 to 11 cm long and 10 to 13 cm wide. They have a copper-red color, which turns dark red in the autumn months, elongated, narrow, almost tapered lobes, glossy texture, slightly embossed ribs and bi-toothed margins, while hanging on reddish stems. The small green flowers appear in the spring months in small groups on the sides of the shoots, have no ornamental interest and are followed by characteristic small winged fruits (samaras).



Cultivation

It is a plant with a medium to relatively high growth rate, robust, relatively versatile and easy to grow. Like all Japanese maples, it prefers relatively cool, semi-shady to shady places and sandy to sandy loam, relatively moist soils with a slightly acidic reaction, very good drainage and moderate organic matter content, but adapts to a range of conditions as long as there is sufficient ground moisture and its root system is well ventilated. It should be protected from the strong afternoon sun, especially in the southern regions of Greece. This relatively cold-resistant species is resistant to temperatures as low as - 12 to - 18 ° C, as well as to most diseases and pests. However, it is a plant quite sensitive to places exposed to strong winds, to very high summer temperatures and to wet, compact soils with poor ventilation, which promotes the appearance of rot and other diseases, especially at high temperatures. Particularly important is the constant water supply so that the soil always remains slightly moist, without strong transitions, as well as light fertilization with balanced, ammonia-free fertilizer, ideally slow release. It is recommended to prune to the desired size during the dormant period (December-January) in order to maintain its shape and strength, while smaller operations can be performed almost all year round. Propagation is mainly by grafting and more rarely by cuttings.



Usage

This impressive, upright and sturdy variety of Japanese maple is distinguished mainly by the extremely interesting shape of the crown, which gives the feeling of a bamboo cluster, as well as the wonderful copper to deep red tones of the rich, strongly divided foliage. It is especially recommended for its participation in mixed borders of herbaceous and shrub species, especially in gardens with modern and / or Japanese character, as well as for its use as a point of interest in flower beds and other low plantings. Also suitable for growing in large pots as a potted plant, ideal for relatively shady balconies, entrances and terraces, while despite its size, it is an ideal variety for use as a bonsai, thus highlighting the special texture of its trunk.






Ask us for the product