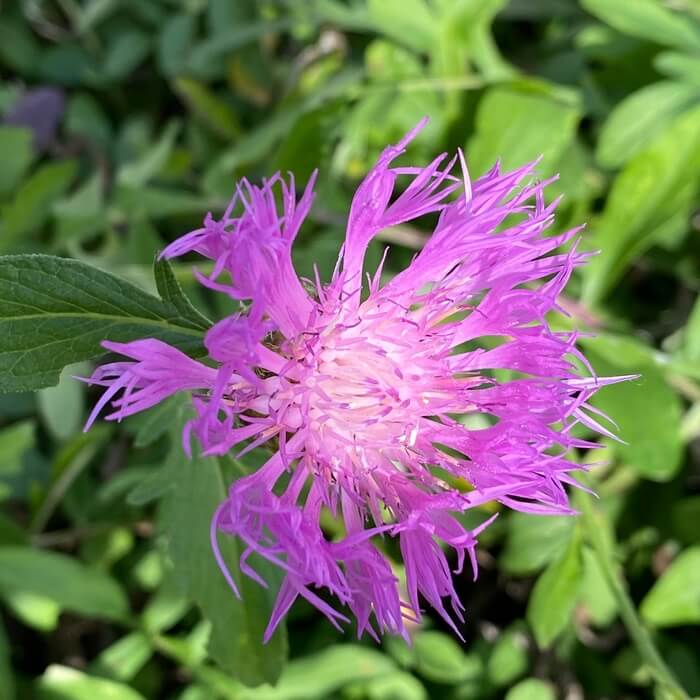 Χαρακτηριστικά

Ύψος
75cm
Width
60cm
Blossom
Μάϊο - Ιούνιο
Colour
Πράσινο - Ροζ - Φούξια
Cultivation Zone
4-5-6-7-8
Light
Ήλιος
Water
Μέτριο
Minimum Temperature
-35°C
Terrain
Αμμώδες - Χαλικώδες - Οργανικό χουμώδες - Χονδρόκοκκο οργανικό - Βελτιωμένο αργιλώδες
Centaurea dealbata 'Bright Rose'
Family: Asteraceae

Description

It is a variety of perennial, herbaceous plant that comes from the semi-mountainous, stony location of northeastern Turkey and the Caucasus. Now known as Phephellus dealbatus. It acquires rich, free spherical to domed growth that reaches a height of 60 to 75 cm and a width of 45 to 60 cm. The particularly beautiful foliage consists of numerous dark green, intensely lobed to pteroid leaves with white foam on their lower surface and leathery texture, which are larger at the base of the plant. The beautiful inflorescences have a bright fuchsia-pink color with lighter, white-pink centers, up to 5 cm in diameter, consist of flowers with divided, unequal petals, surrounded by scaly bracts and carried on the edge of slender but strong stems from 45 to 60 cm tall from May to June.

Cultivation

It is a plant of medium growth rate, which is very hardy, versatile and easy to grow. It prefers direct exposure to light, while it is not selective in terms of soil characteristics, as long as it is light and extremely dry. Particularly resistant to dry, hot summer conditions, as well as calcareous soils, while growing best in mountainous, cool climates. In addition, it is quite cold-resistant, withstanding minimum temperatures down to -35 ° C. At the end of flowering it is recommended to remove the blooming stems to promote its recurrence. Propagation is by division and seed, often self-seeding in large numbers when grown in ideal conditions.

Uses

The large, bicolor flowers and leaves of this impressive centaur make it an ideal choice for rock gardens, gravel gardens, orchards but also as an unusual ground cover for small areas. Particularly useful for its participation in mixed perennial plantings in borders and flower beds, where it combines excellently with other species with solid to moderate growth, especially when grown in mountainous locations. Interesting as cut flowers. During flowering it is extremely attractive to pollinating insects such as bees and butterflies.